Student Mobility
Erasmus+ International Student Mobility KA171 Scholarship Program for the academic year 2023-24 is now open for applications!!
Providing international students with the opportunity to study at Suleyman Demirel University (SDU), Turkiye
Program Duration: September 2023 to January 2024
Scholarship Coverage: Tuition fee, insurance, accommodation, meals
Eligible Faculty:
Business and Entrepreneurship
Eligibility Criteria:
Minimum CGPA 3.50
Must have completed a minimum of 1 year at the home university.
Proficient level of English communication
Ability to adapt to diverse and multicultural environments
Benefits:
Opportunity to become an esteemed Erasmus+ scholar
Earn European academic credits and certification
Access to international networks
Participate in cross-cultural events
Discover Turkiye along with other European nations
Application Deadline: June 04, 2023
Application Link: https://forms.gle/YpchmfLVcCzRJavq9
Staff Mobility
Erasmus+ International Credit Mobility KA171 Staff Mobility Program is now open!!
Staff teaching (STA) / Staff training (STT) opportunity at Suleyman Demirel University, Turkiye (https://sdu.edu.kz/)
Successful candidates will receive approximately 1500+ EUR for the 7 day long mobility at SDU.
Scholarship Coverage: Partial airfare, insurance, accommodation, meals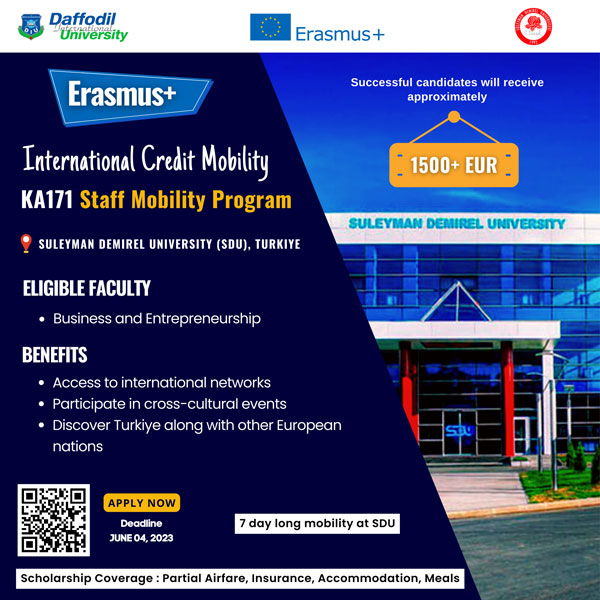 Eligible Faculty:
Business and Entrepreneurship
Benefits:
Access to international networks
Participate in cross-cultural events
Discover Turkiye along with other European nations
Application Deadline: June 04, 2023
Application Link: https://forms.gle/uYLWVySmAUoReiit6