Project: Revisiting Henry Moore and Barbara Hepworth
Course: Sculpture and model making
Batch: L-1,T-2
Tutor: Nazmul Hoque Nayeem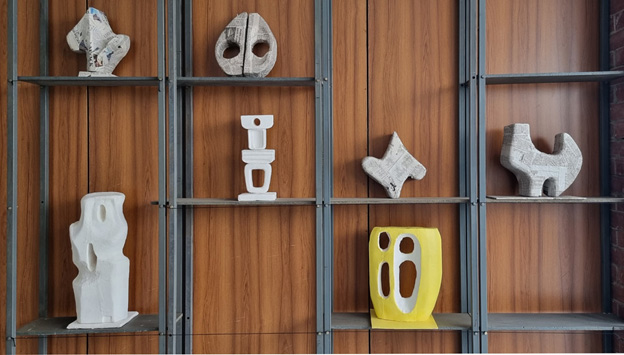 Project Title: Knowing the Architects: T-shirt Design
It's inspirational to know some impactful characters to start the journey of architecture. Level-1 Term-1 Students of the Department of Architecture at DIU have studied renowned architects around the world and expressed them in their studio project of T-Shirt Design. They explored brush painting, fabric color, and digital media to show off their craftsmanship.
Course Tutor: Shafiul Islam Rajib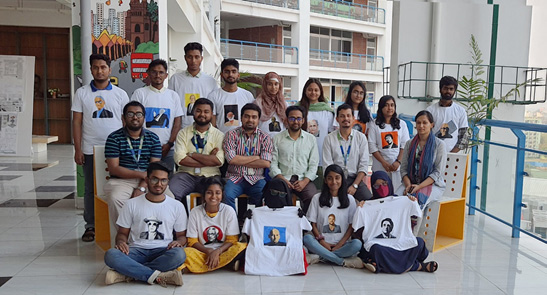 Project title: Progression of Color
In this project, the students of Level-1, Term-I have explored the "Color Wheel" to understand the basics of color. Students have spontaneously chosen a geometric pattern to fill with color. They have synchronized the color of one's tile with the color of adjacent one, creating a seamless progression.
Course Tutor: Shafiul Islam Rajib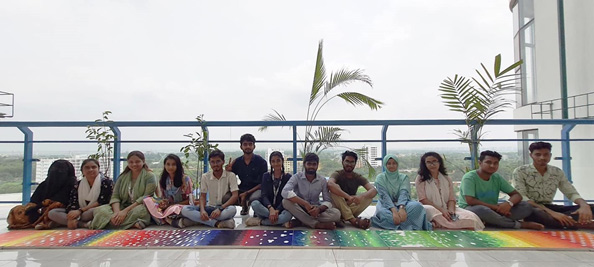 Project title: Virology research center.
Student name: Mahmuda Akter
Can we think of a research center that may deal with virus-related issues (like Covid)? Our student Mahmuda Akter thinks of a center like this in her thesis.
Project title: Resuscitation of Mawa Ghat
Student name: Yeasmin Akter
What will be the future of the new city along the Padma Bridge and Mawa Ghat? Will it be an urban hub for the next generation?
Our student Yeasmin Akter Ranu tried to assemble some ideas in her thesis project for the future expansion of Metro city towards the southern part of Dhaka.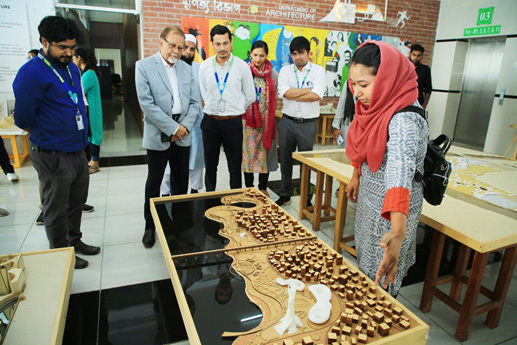 Project Title: Solitude: A Center for Well-being of Animals
Nowadays so many people adopt and raise pets as their family members. What about a center for Pet animals where animal lovers can come and get facilities like socialization, sharing common interests/thoughts, amusement, food, health care etc. for their pets? Our Alumni Matrin Mozammel thought about such a center in her thesis. Have a look at the visualization of that project.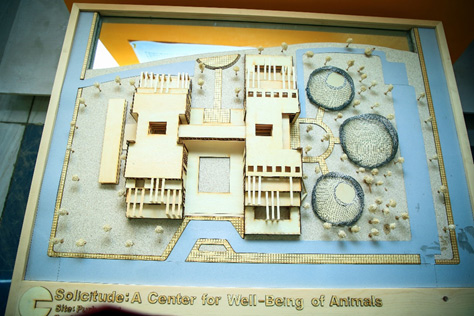 Project Title: Land Port at India-Bangladesh border in Sylhet
Land Ports also called border stations for import and export. A land port houses the customs and border protection, and other inspection agencies responsible for the enforcement of country's laws pertaining to such activities. The land port of entry consists of the land, the buildings, and the on-site roadways and parking lots that the port of entry occupies. The facility serves as a point of contact for travelers entering or leaving the country for the purposes of enforcement; Prevention of illegal aliens from entering the country; Collection of revenues; Prevention of injurious plants, animal pests, human and animal diseases from entering the country. Bangladesh has 2400 km land border, 92% of which is with India and 8% is with Myanmar, Bangladesh border trade is looked after by 181 land customs stations. Check the thesis project of our student Maliha Hossain at India-Bangladesh Border in Sylhet.
Project Title: Jibonanondo Dash Memorial Complex
Creating exploratory spaces is a challenging task, as a student needs to have a sound knowledge of how a space can communicate its purpose with its users. Pronab Chandra Halder designed a Jibanananda Das Memorial and Research Center, where the spaces tried to depict different phases of the great poet, based on his philosophy. The poems of the poet inspired him to design exploratory spaces, where one can relate himself with the space as if, the spaces are telling stories.
Project Title: Dots in Space
The dot marks a position in space. Being the prime element in the vocabulary of basic design conceptually it has no length, width, or depth and therefore static, centralized, and directionless. Although theoretically, a dot has neither shape nor form, it begins to make its presence felt when placed within a visual field with some degree of visual dimension. In this particular project students are asked to make a composition with dots.
Course Tutor: Lamiya Fariha