Publication Ceremony of the book "Dementia" held at Daffodil International University
Daffodil International University and Sir William Beveridge Foundation, Bangladesh jointly organized a Publication Ceremony of the book titled "Dementia, a Public Health Problem among Elderly People" on October 19, 2015 at DIU Auditorium. Professor Dr. Yousuf M. Islam, Vice Chancellor, Daffodil International University presided over the programme. The National Professor Dr. M. R. Khan enlightened the occasion as the Chief Guest. Major General (Retd) Jiban Kanai Das, the Country Representative and Head of Operations - Bangladesh of Sir William Beveridge Foundation attended the meeting as Special Guest. Honorable Chairman of Board of Trustee (BoT) Mr. Md. Sabur Khan attended the occasion as the guest of Honor. Professor M R Khan in his speech praised the innovative idea of ERA for the development of country. He also emphasized the importance of dementia-friendly environment. He thanked the authors for their excellent and time-demand research and book.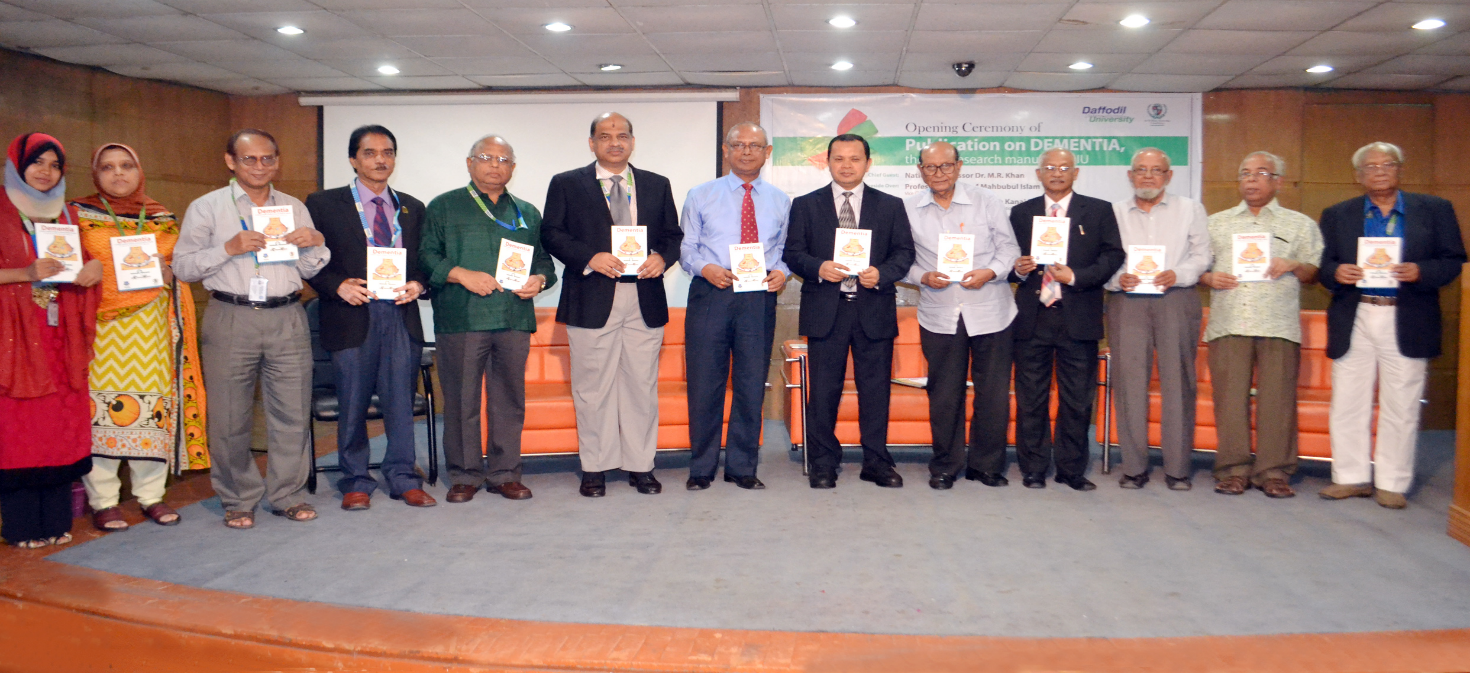 Md. Sabur Khan, in his speech, he thanked the authors of this book and research for their hard efforts and ensured his whole hearted cooperation and supports for the second phase of this work too. He also expressed his idea to form an Expert Resource Association (ERA). Members of ERA will be the active, retired or seniors citizens of the country within different areas of expertise. Major General (Retd) Jiban Kanai Das told that Dementia Bangladesh is an initiative of Sir William Beveridge Foundation. He thanked all the people involved with this outstanding research and book and reiterated elites for continuation of support from their end in future. Very beginning of the session Dr Salamat Khandker, one of the authors of this book briefly discussed the key findings of research. Emeritus Professor Dr. M Aminul Islam, Professor Dr. Md. Golam Rahman, Pro-Vice Chancellor, DIU, and Professor Dr. A. I Mustafa, Dean of the Faculty of Allied Health Sciences, appreciated this research endeavor. Among others, Professor Rafiqul Islam, Dean, Faculty of Business and Economics, Prof. Dr. Engr. A. K. M. Fazlul Haque, Registrar, DIU, Head of the Departments, Dr. Nadira Mehriban (one of the authors of book), distinguished guests & students and high officials were present in the program. Professor Dr. S M Keramat Ali, the Principal Investigator of Dementia Research stressed this book to be the first of its kind of research in Bangladesh. He thanked DIU and Sir William Beveridge Foundation for their financial support.
The publication on Dementia Related Problems and Prevention will help to identify the reasons behind dementia and their possible remedial measures to safeguard elderly people suffering from dementia. The government authority will also get direction for future initiative in this regard based on the recommendations of the book.