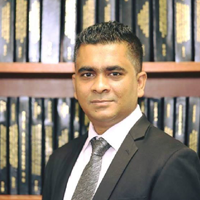 Dr. Imran Mahmud
Head In-Charge
Department of Software Engineering
Daffodil International University
Web: www.daffodilvarsity.edu.bd
Email: headswe@daffodilvarsity.edu.bd
On behalf of the faculty members and students of the Department of Software Engineering, I , Dr. Imran Mahmud, Head of the Department , welcome you to our department.
Software is now everywhere and our society is now totally dependent on software- intensive systems. Software Engineers around the world are now shaping society through digitization and digitalization. And we are going to be a part of that.
We have designed our courses to increase the employability of our students in the public, corporate, entrepreneurial and non-profit sector anywhere in the world. We prepare our students to embrace the highest professional standards in the IT and Software Engineering sector. Our excellent faculty members are committed to supporting you.
The uniqueness of our department and programs is our delivery. We focus more on real life projects and research works where students get learning experience which is more experiential. This is more about problem based learning and enquiry based learning. Our teaching is much different than traditional teaching and it includes flipped classroom and blended learning.
Another unique aspect of the department is that students are offered three different major courses : Cyber security, Data Science and Robotics, to keep pace with the rapidly growing job market.
Founded in 2010, the Department of Software Engineering is renowned for teaching , research and qualified alumni who are working as software engineers at top tier companies both home and abroad. The syllabus is always reviewed by experts from industry and academia.
Feel welcome to explore our website. Your feedback is always welcomed.