Daffodil Institute of Social Sciences (DISS) is a residential institute for the Disadvantaged, Underprivileged, Street and Orphan children the Bangladesh, providing accommodation, food, healthcare, education from Kindergarten to Postgraduate, vocational training and all other basic amenities of life absolutely free with a job after completion of education.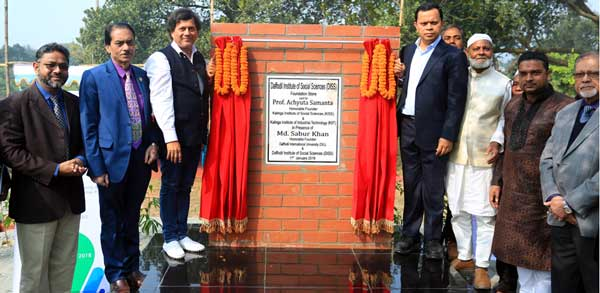 "Foundation Stone of Daffodil Institute of Social Science (DISS) for comprehensive rehabilitation of disadvantaged children was laid on January 11, 2018 at Dattapara under Ashulia Thana in Dhaka. Professor Dr Achuyata Samanta, Founder of Kalinga Institute of Social Science (KISS) & Kalinga Institute of Industrial Technology (KIIT) laid the foundation stone as the chief guest in presence of Dr Md Sabur Khan, Chairman, Board of Trustees, Daffodil International University and Founder of Daffodil Institute of Social Science".
Lack of early year's motivation and support at home places the underprivileged children face great difficulties both in academic and social development. Academically, they remain unable to cope with the demands of the school environment. The lack of success in academics fuels a low self-image. This low self-image leads to a mentality of "learned helplessness", causing children to feel they cannot succeed, and that there is nothing that they can do about it. So they look for an opportunity for prosperity, but who will take the effort. We believe that the most effective way to break the cycle of poverty is through quality and holistic education. The thought of DISS has been derived to develop those deprived children of the country.
The neglected children have some talents, vision to change their social status or to do some work to fulfill the basic needs where we have few scopes for this community to help them to upgrade their status. Only government is not enough to change their fate wheels. Private organization should come forward and here DISS is working to support this disadvantaged community.
DISS is impacting in the holistic development of the children and development of their leadership qualities, problem solving skills, attitudes for team work so that they can fit themselves at any space in the job world and society later. In the long run the trained students will be able to support their own family, change the financial status and transform their level from liabilities to change maker through contributing to the society.