Daffodil International University holds "Seminar on Anti Drug and Discussion Meeting"
Madokdrobby o Nesha Nirodh Sangstha (MANAS) in Association with Daffodil International University (DIU) holds a seminar and discussion on "Anti-Drug" at DIU. Mr. Obaidul Quader, MP, Honorable Minister, Ministry of Road Transport and Bridges of the Government of Bangladesh was present in the program as the chief guest while Mr. Md. Sabur Khan, Chairman, Board of Trustees, Daffodil International University was present as the special guest. Professor Dr. Yousuf M Islam, Vice Chancellor, Daffodil International University was present as the guest of Honour. Founder President of Madokdrobby o Nesha Nirodh Sangstha (MANAS), Ekushey Padak winner and Sound Soldier of Shadhin Bangla Betar Kendra Professor Dr. Arup Ratan Chowdhury presented the Keynote paper in and presided over the program.

It was observed that the drug addicts are the killer of themselves. They kill themselves silently and this is one kind of suicidal activity. To build a drug free society we have to strictly control drug business. We should give them capital punishment who abuse drugs. family members, friends and teachers should come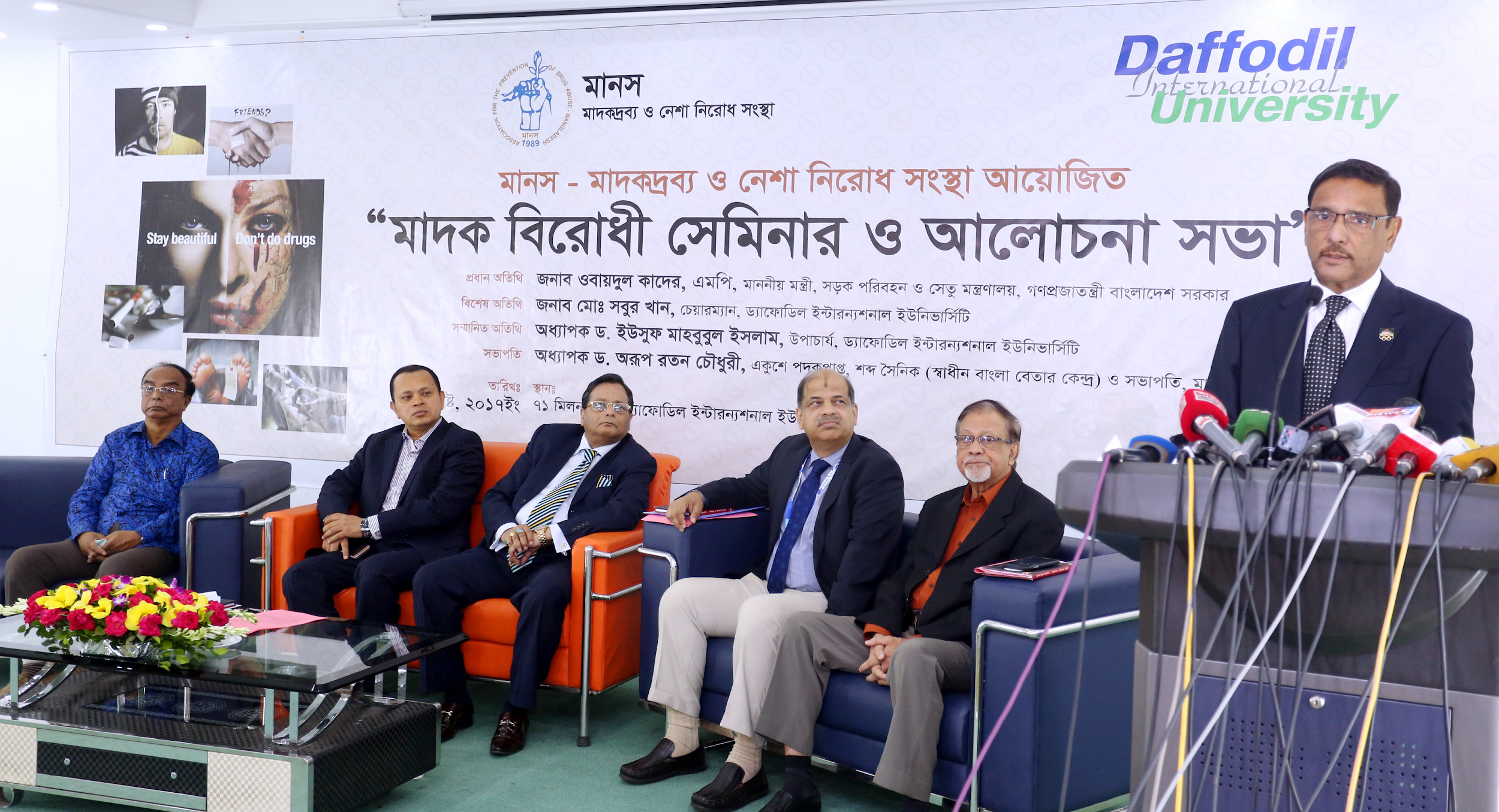 forward to play a vital role to return the Drug addicts to normal life by counseling. As a human being all of us have duty towards the state and society and we should perform it properly. Half of the crime activities of society is done by drug addicts. Drugs make human brain damaged and collapsed. So they cannot realize the difference between good and bad. Bangladesh is a young populated country. National and international criminals are active to misguide this young people. We should protect our young generation from abuse of drugs.
The bad effects of drug addiction was addressed at the program. The young generation, specially the students got aware of the effects of drug addiction in their personal life, on family, society and the country as a whole which will encourage them to avoid drug addiction and to develop them to contribute for the nation. It will help them to build a knowledge-based society in Bangladesh.