To ensure secure and risk free quality higher education, Daffodil International University in association with Pragati Life Insurance Limited has been taken a gigantic initiative for introducing a remarkable policy titled 'Guardian's Insurance Policy' ever first in Bangladesh for the students who have unfortunately lost their guardians.
Why Guardian Insurance Policy?
We have frequently observed that student's education is being hampered or permanently stopped due to natural death, accidental death and various diseases of the Guardians during his or her study period. If any guardian dies just after admitting her son/ daughter in Daffodil International University, in that case their education wouldn't be interrupted because Insurance Company will pay students educational expense to the university as per agreement and the claimed money of the insurance will be added with the tuition fees of those students. All the Guardian of the admitted students which determined during admission will remain under this insurance coverage from spring 2019 except international student's guardian.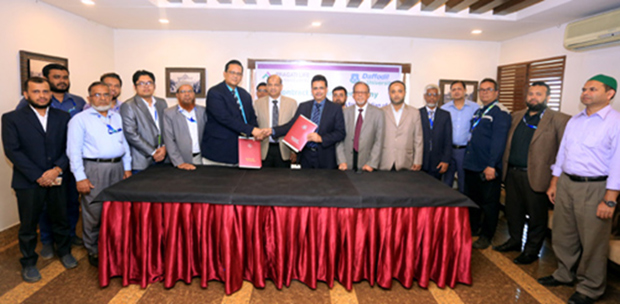 MoU signing between Daffodil International University and Pragati Life Insurance Limited
Premium & Benefit
Particulars

Premium

Benefit

Students Guardian group life insurance policy with Pragati Life Insurance Limited has started from spring-2019

BDT. 600/- per student as yearly premium which will be deposited during admission.

BDT. 300,000/- for Natural Death (NDB)

BDT. 600,000/- for Accidental Death Benefit (ADB)

BDT. 300,000/- for Major Disease Benefit (MDB)
Note: Myocardial Infarction (Heart Attack), Stroke, Cancer, Kidney Failure, Major Organ Transplantation, Multiple Sclerosis, Paralysis and Coronary Artery (Bypass) Surgery will be treated as Major Disease.
Settlement of Insurance Claim: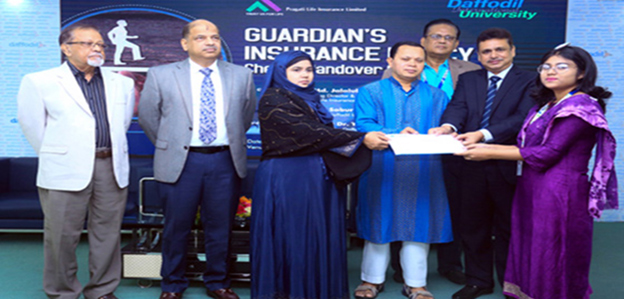 Cheque handover ceremony of Guardian's Insurance claim.
Note: Terms & Conditions are applicable as per agreement with Insurance Company.


For further queries, please contact to the following person:

Mr. Zonador Rahman
Accounts Officer
zonad.accounts@daffodilvarsity.edu.bd
Ext: 259, Cell:+8801847334799
Daffodil International University