DIU Made Donation to the Caretaker Government for Flood Affected People
Vice Chancellor Prof. Dr. M. Aminul Islam and Advisor Prof. Shahjahan Mina handed over cheque as financial donation to the Chief Advisor Dr. Fakhruddin Ahmed for Flood Relief Fund in 2007.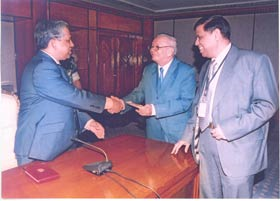 The financial assistance was helpful for the Government to provide quick assistance and relief goods to the flood affected people. The initiative helped to enhance the humanity perspective of DIU.