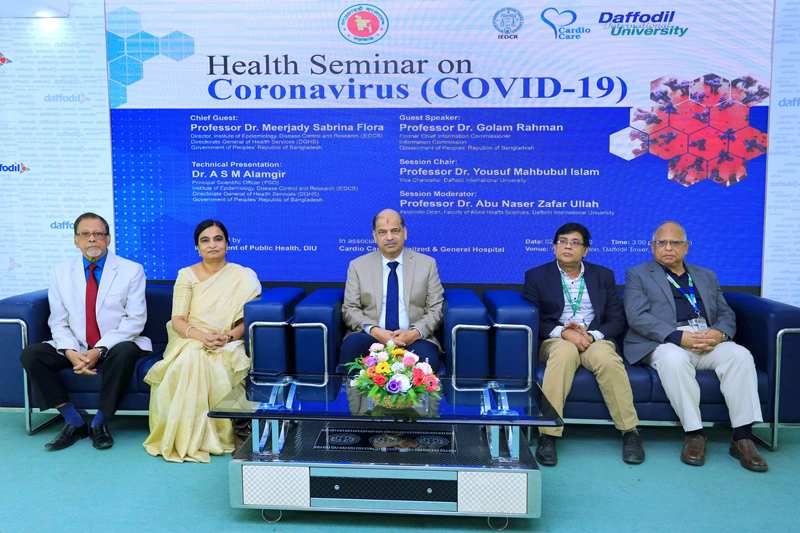 With the recent emergence of deadly Coronavirus, the Department of Public Health of Daffodil International University and Cardio Care Specialized and General Hospital organized a seminar on 'Outbreak and Prevention of Coronavirus (COVID – 19)' on 3rd March, 2020 at 71 Milonayoton of the university as part of its social responsibility. The seminar was arranged with a view to creating awareness on COVID-19 among the DIU stakeholders and through DIU to create awareness among the mass people of the country.
Professor Dr. Meerjady Sabrina Flora, Director, Institute of Epidemiology, Disease Control and Research (IEDCR), Government of Bangladesh; and the national spokesperson on Coronavirus was present at the seminar as the chief guest. Professor Dr. Golam Rahman, Former Chief Information Commissioner, Information Commission, Government of Bangladesh was present as the special guest. Dr. A S M Alamgir, Principal Scientific Officer, IEDCR presented the technical briefing on the latest situation on Coronavirus in the seminar. Professor Dr. Yousuf Mahbubul Islam, Vice Chancellor, DIU presided over the seminar. The seminar was addressed by Professor Dr. S M Mahabub Ul Haque Majumder, Pro Vice Chancellor, Professor Dr. Ahmad Ismail Mustafa, Dean, FAHS, DIU, Professor Dr. A N Zafar Ullah, Associate Dean, Faculty of Allied Health Science, DIU.
While addressing as the chief guest Prof. Dr. Meerjady Sabrina Flora said, mass awareness is very much important to prevent
coronavirus. Recently, we observe that rumour about coronavirus is spreading rapidly through social media. She urged not to believe and look into this rumor.
Dr. Meerjady Sabrina Flora said, it is very easy to prevent corona virus just washing hands now and then. We have to care about cough. Beside this, we should not touch in doors in marketplace, handle of escalator and avoid to handshake with each other.
Dr. Meerjady Sabrina Flora also said that Bangladesh Government has already taken highest ever precaution and initiatives to prevent corona virus. She urged people not to be panic as the government has taken all necessary preparation.