Training of Trainers on: Higher Education for Autistic Person held at Daffodil International University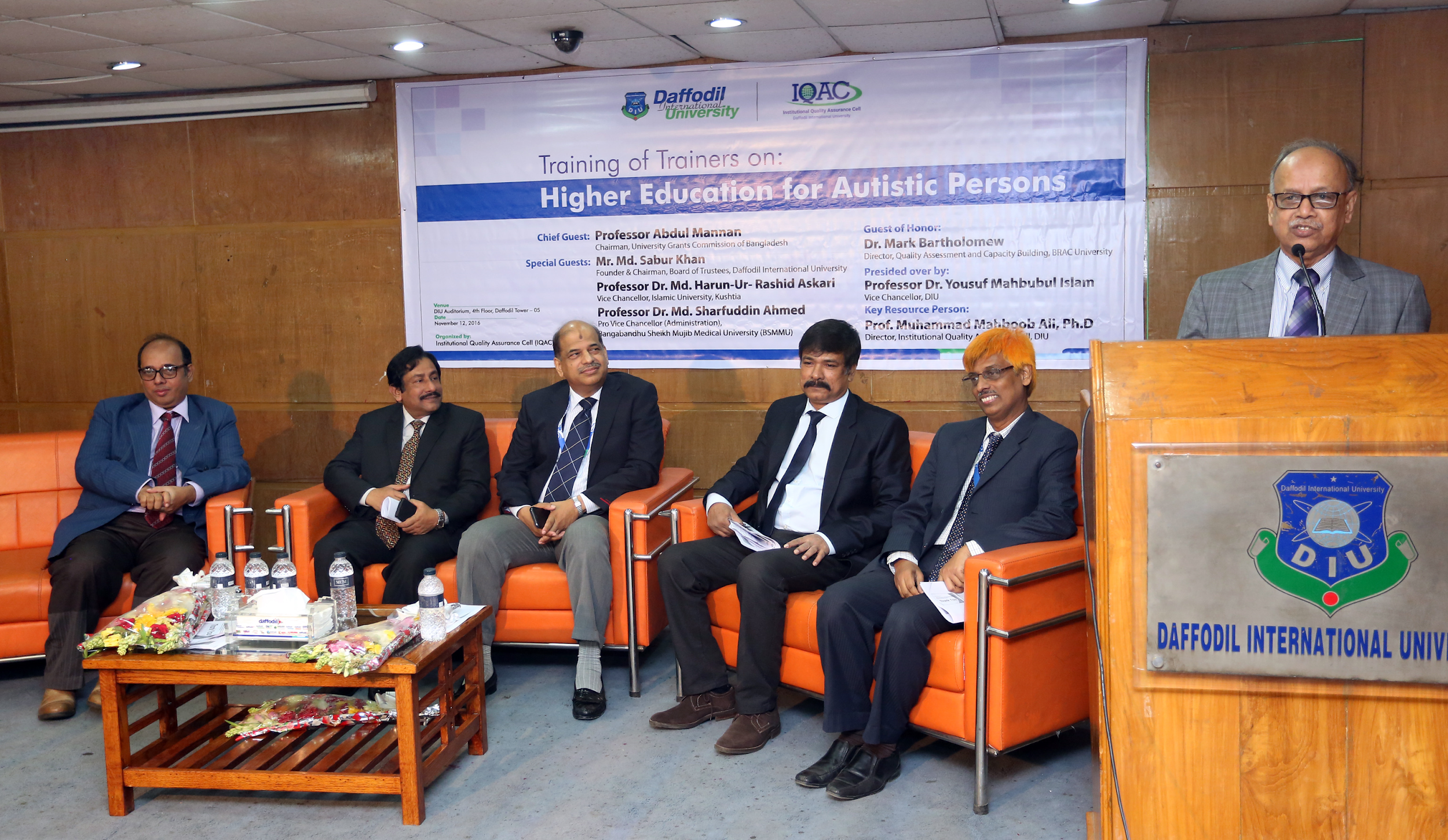 Institutional Quality Assurance Cell (IQAC) of Daffodil International University organized a training of Trainers program on "Higher Education for Autistic Person" today on 12th November 2016 at DIU Auditorium. Professor Abdul Mannan, Chairman, University Grants Commission of Bangladesh (UGC) graced the program as the chief guest. Professor Dr. Md. Harun-Ur-Rashid Askari, Vice Chancellor, Islamic University, Kustia and Professor Dr. Md. Sharfuddin Ahmed, Pro-Vice Chancellor Bangabondhu Sheikh Mujib Medical University (BSMMU) were present as the special guests. Prof. Dr. Yousuf M. Islam, Vice Chancellor, Daffodil International University presided over the program. Professor Muhammad Mahaboob Ali, PhD, Director, Institutional Quality Assurance Cell (IQAC) presented the keynote paper in the program. The initiative of Training of Trainers on Higher Education for Autistic persons for the first time in Bangladesh.

The program emphasized that autistic persons would turn to be of immense potentialities instead of being burden in the society given affection, love and care. The educational institutions, national –international organizations, voluntary organizations and all sections of the society should come forward for welfare of autistic persons with holistic approach and it should be started from the primary level.

The faculty members got training on the ways to teach the autistic students . The participants got aware of the existing acts, policies and facilities of the Government of Bangladesh favouring the autistic people of the society . It encouraged other universities to conduct such initiatives for the wellbeing of these portion of the population . This type of initiative will pave the way for ensuring congenial environment in higher education institutions for autistic students.