Seminar on "Civic Learning Civic Engagement and Youth Empowerment" held at Daffodil International University
Department of Nutrition & Food Engineering and Department of Pharmacy of Daffodil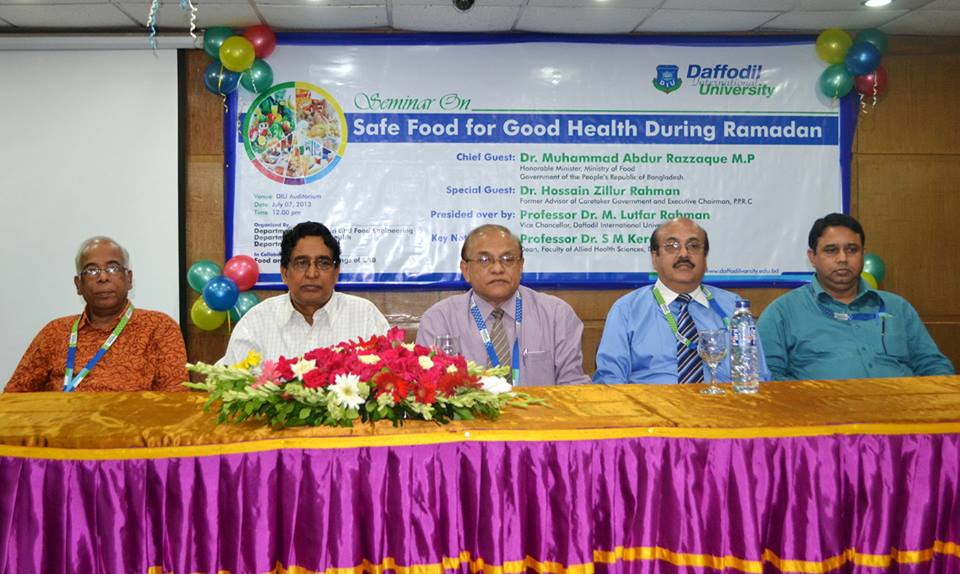 International University jointly in collaboration with Consumers Association of Bangladesh (CAB) organized a seminar on "Safe Food for Good Health during Ramadan" today on 07 July 2013 at DIU Auditorium. Honorable Minister, Ministry of Food and Disaster Management Dr. Muhammad Abdur Razzaque M.P graced the occasion as Chief Guest. Professor Dr. M. Mizanur Rahman, Treasurer of Daffodil International University was present as the guest of Honor.
It was observed that only introduction of law is not sufficient to remove adulterations, it requires creating awareness among all walks of life. Honorable Minister informed that, Government has taken a plan to distribute 10 kg of rice at free of cost among 7.7 million famine –stricken families of northern districts of the country.
It created awareness among business persons and mass people regarding the significance of controlling the food price within the reach of people in the month of Ramadan, for the sake of low-income group.